Spiritual Dangers of Overeating
by Beth Ann Ziarnik @bethannziarnik
Spiritual dangers of overeating. Sounds ominous, doesn't it? It is. Just like this mostly submerged crocodile watching for unwary prey.
So, let's get serious about the spiritual dangers of overeating. Are you ready? I know I am.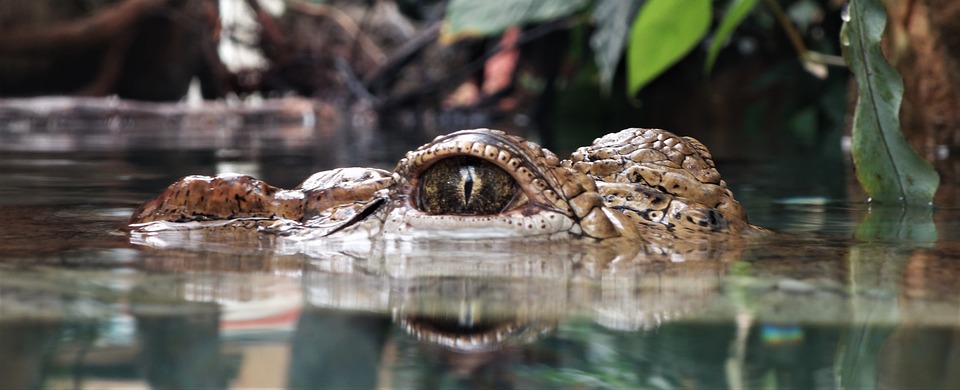 Last week's blog on Step One of Diet No More covered how I began my journey toward peace of heart and freedom from the insidious trap of overeating. Today I'm looking at some motivational truths from God's Word.
What God's Word Says
First of all, we know God's Word to be truth, and that Jesus said he would send the Holy Spirit to lead his people into all truth (John 14:26). Knowing that, I decided I'd be willing to accept whatever God's truth might show me, and the Holy Spirit was more than willing to lead me into it. As I read my Bible, he revealed how certain verses related to my overeating. Honestly, my heart hurt as I considered them. Yet if I believed God's Word and wanted to be free of overeating (boy, did I ever!), I had to be brave and consider what his Word said.
I hoped that examining these Scriptures about the spiritual dangers of overeating would help me come to my senses.
So, taking a bracing breath … I dove in.
Two Heart-breaking Truths
Broken Down and Defenseless: A person without self-control is as defenseless as a city with broken-down walls. ~ Proverbs 25:28, The Book, NLT.
That's pretty defenseless. Okay, truthfully, I did eat with little or no self-control, and my eating knew no boundaries. No wonder I'd gained so much weight since Jim died. I'm extremely sad to admit now that I do feel broken down and defenseless when it comes to my eating habits.
Another God: Their god is their appetite, they brag about shameful things, and all they think about is this life here on earth. ~ Philippians 3:19, NLT.
Had my appetite become a god in my life? The idea horrified me. Still, I said I'd examine the evidence, so here goes. Did I think about and spend hours on little else than what and when and where I would eat next? Did I rave on and on about favorite foods, recipes, and restaurants? Had I ever bragged about eating too much–called attention to feeling stuffed after a meal or boast that my stomach could handle anything I ate? Yes, yes, and yes. (Sigh!) The evidence was clear. Without fully realizing it, I'd made my appetite another god in my life. A heart-breaking realization.
More Hard Truth to Swallow
Defiled: You are not defiled by what you eat; you are defiled by what you say and do! ~ Mark 7:15, The Book, NLT.
Food itself doesn't defile. Sin does. And since eating too much is gluttony, it's sin. So, what did the defilement mentioned in this verse look like? It meant every time I indulged in this sin, it corrupted my purity in Christ Jesus and sullied my Christian witness. It desecrated God's holy temple—my body which he purchased with his blood–and it dishonored the sanctity of his precious blood covenant with me.
Bad enough, right? But that's not all. What about the excuses I used to give myself permission to eat more than my body needed? Those lies also defiled me. Boy, the truth can hurt!
Hostile: And if you fail to learn … and continue your hostility toward me . . . though you have food to eat, you will not be satisfied ~ Leviticus 26:23 & 26, NLT.
Did you ever eat and eat without coming to the place where it satisfied you? I have. Interesting that in verse 23, God explains the reasons for such dissatisfaction. Not only had I failed to learn from what I suffered from eating too much, I blindly continued in what verse 26 calls "hostility" toward God. Not that I ever thought of overeating in this way. I just wanted my way and resisted God's loving attempts to lead me away from my self-destructive habit. Choosing that excess food over him Not very wise, right?
Do these truths make you as sick to your stomach as they do me right now? If so, please know that I'm not attempting to lay a guilt trip on you. I'm only sharing what I believe the Holy Spirit is telling me about the spiritual dangers of overeating.
My Heart Sinks Further
Cursed: But those who choose their own ways, delighting in their sins, are cursed. ~ Isaiah 66:3, The Book, NLT.
Wow … whenever I choose my own way and delight in any sin–including gluttony–I bring curses on myself? That means what I may see as harmless fun (eating to excess) invites harm, misfortune, and torment into my life. And, yes, I know what this to be true.
Misled: Don't be misled … you can't ignore God and get away with it. You will always reap what you sow! Those who live only to satisfy their own sinful desires will inherit the consequences of decay and death. ~ Galatians 6:7-8, The Book, NLT.
God wants the best for his children. Yet when I ignore what he says about anything–including eating to much–I mislead myself. God's Word says I won't get away with it. The over-abundance of food I sow in my body will reap ugly extra pounds, health problems, and illness. Experts say those excess pounds can also lead to a diminished life and an early death. In the light of this information, satisfying my desire for those delicious super-size snacks and meals doesn't appear such a great idea after all.
I See the Light!
Broken down and defenseless … "an appetite god" … hostile … defiled … cursed … misled — not a pretty picture, and none of which I wanted in my life. None of which my loving God wanted for me either.
Thank you, Lord God, for your truths about these spiritual dangers. They help me understand my need for change.
Next Week
Next week is all about Dynamiting Self-Deception–the last part of Step One about building a sturdy foundation for this difficult, but necessary journey. See you next week!
HEARING FROM YOU: Oh, and if you have any questions or comments, you can leave them below,  or use the email form on this website, and I'll get back to you. Have a great week!
HINT: To receive each week's blog post in your email box, be sure to sign up in the "Keep Up To Date" box at the bottom of the page or the "Updates Sent Straight to Your Inbox" subscribe now box at the top of the side bar on this page.
ONE LAST NOTE: If you know others who might enjoy this series, please invite them or use the share button below. Thank you!