Dynamiting Self-Deception
by Beth Ann Ziarnik @bethannziarnik
Dynamiting self-deception? Absolutely! Hey, it takes power to blast tree stumps from a farmer's field, right? It also take power to change a bad habit–including the miserable  habit of eating more than our bodies need.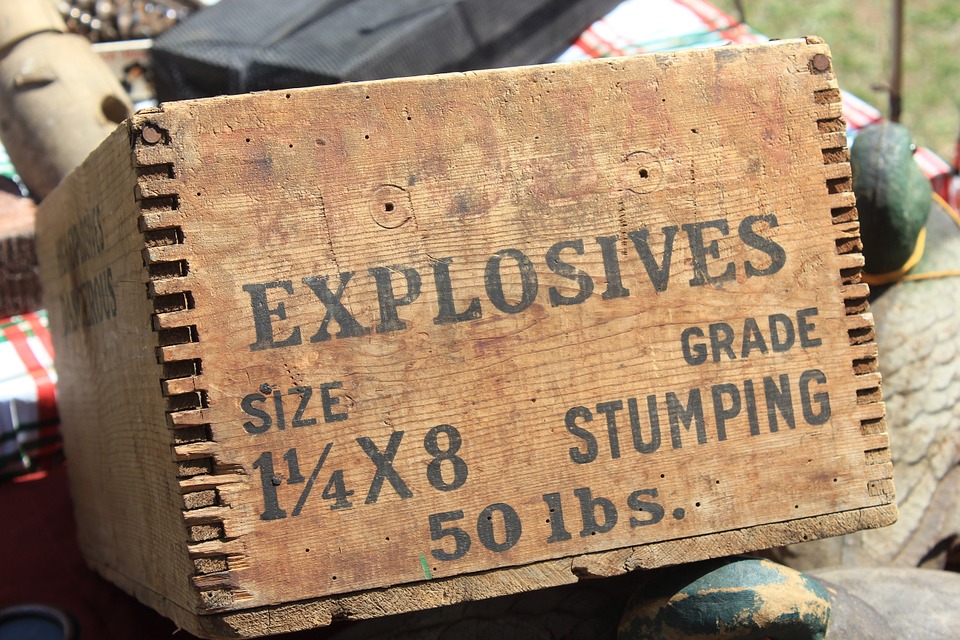 Last week's Spiritual Dangers of Overeating began a sturdy foundation with many good reasons to change.  But today as I consider a few more Scriptures, I see my heart isn't quite as ready to move forward as I had thought. (Sigh!) Change isn't easy. And it's obvious that I need a heart change.
Thank God for Philippians 2:13.
Becoming Willing & Able
For God is working in you, giving you the desire to obey him and the power to do what pleases him. ~ Philippians 2:13, The Book NLT.
I love this Scripture! What a great promise. It gives me hope whenever I'm not quite ready to do what I know is God's will. (Might as well be honest, right?) Anyway, whenever I'm in that situation, I take this verse to him and ask him to give me the desire–make me both willing and able–to obey him. That he even included this verse in his Word shows how well he knows his children and their needs.
Dear Lord, you know my heart. How I want to be willing, but I'm not quite ready. Please make me both willing and able to do your good will–to utterly abandon overeating. How well I know that only with your help can I change. Thank you for hearing my prayer, dear Lord.
No More Fooling Myself
Okay, now on to dynamiting self-deception number one …
If we say we have no sin, we are only fooling ourselves and refusing to accept the truth. But if we confess our sins to him, he is faithful and just to forgive us and cleanse us from every wrong [including gluttony]. ~ 1 John 1:8-9, The Book NLT.
Last week I made up my mind to confess. This week I'm determined to dynamite self-deception. It's time to stop fooling myself. Yet how easily I slip into thinking, "For Pete's sake, it's only eating. What's all the fuss?" How easily I fool myself into believing that overeating is not a sin. But last week's Scriptures from God's Word made it clear what "all the fuss" is about.
So now, dear Lord, I confess–whether I realized it or not–I've been fooling myself by playing with gluttony and all its spiritual dangers. I've not taken this sin seriously. Please forgive me, Lord. I refuse to fool myself any longer, and thank you for your Word which assures me that you are faithful and just. When I confess my wrongdoing to you, you forgive me and cleanse me from my sin. How beautiful is your assurance. Thank you, Lord. Thank you with all my heart!
No More Trying to Hide
And now on to the second necessary spiritual blast …
I confessed all my sins to you and stopped trying to hide them. I said to myself, "I will confess my rebellion to the Lord." And you forgave me! All my guilt is gone. ~ Psalm 32:5, The Book NLT.
How silly to try and hide my gluttony from God. For Pete's sake, he knows everything. And all my excuses about why it's all right to keep eating too much won't hide my sin or make overeating all right. I'm better off making things right with the Lord.
Dear Lord, nothing is hidden from you. You know all about my rebellion, my continual overeating even though I know it is sin. You know all my excuses and all the ways I try to hide my sin. Today I come out of hiding. I confess these things to you and ask you to forgive me. Thank you for forgiving me and wiping away my guilt with the blood of Jesus.
Abandoning My Shameful Ways
And the third and final spiritual blast …
Help me abandon my shameful ways … I long to obey your commandments! Renew my life with your goodness. ~ Psalm 119:39-40, NLT.
Let's face it. It's one thing to know–and even admit–God's truth, and quite another to put it into action. Human hearts wax stubborn from years of practicing not-so-helpful, shameful ways. And my heart is no exception. It needs this third blast of dynamiting self-deception.
Dear Lord, I appeal to you. Please help me as I choose to abandon–for good–my greedy, gluttonous ways of eating.  And please renew my life with your grace and goodness as this verse says you will. Only with you can I  succeed on this journey. Thank you for your loving compassion, and thank you for hearing and answering my prayer.
What Next
Whew! With Diet No More STEP ONE plus its related Scriptures in Spiritual Dangers of Overeating and this week's Dynamiting Self-Deception, The Lord has helped me lay a firm foundation to stop overeating. Next week it's on to Diet No More STEP TWO and tearing down the "biggest blockade" to freedom from overeating–one you might never have thought of. I know I didn't. Thanks for accompanying me on this journey. God bless you! See you next week!
P.S. Dear friends, I know you're eager for STEPS THREE through SIX with their more hands-on helps to losing weight without dieting. Believe me, they're coming–along with "The Diet No More Quick Tips Sheet" to aid in staying focused on this journey. But those STEPS will do no good without the foundations of STEPS ONE and TWO. So, be patient and, if you think this approach might be right for you, really work these preparation STEPS so that you're ready!
HEARING FROM YOU: Oh, and if you have any questions or comments, you can leave them below,  or use the email form on this website, and I'll get back to you. Have a great week!
HINT: To receive each week's blog post in your email box, be sure to sign up in the "Keep Up To Date" box at the bottom of the page or the "Updates Sent Straight to Your Inbox" subscribe now box at the top of the side bar on this page.
ONE LAST NOTE: If you know others who might enjoy this series, please invite them or use the share button below. Thank you!