Author Alice K. Arenz's Novel Hiding from Christmas
Hiding from Christmas.  Author Alice K. Arenz delights in writing romance, cozy mysteries, and romantic suspense. However she admits, "I've always preferred mysteries and suspense. There's just something about puzzles and trying to figure out the answers. Following the clues—red herrings and all—to come up with the solution to the mystery. So, my writing naturally goes in that direction."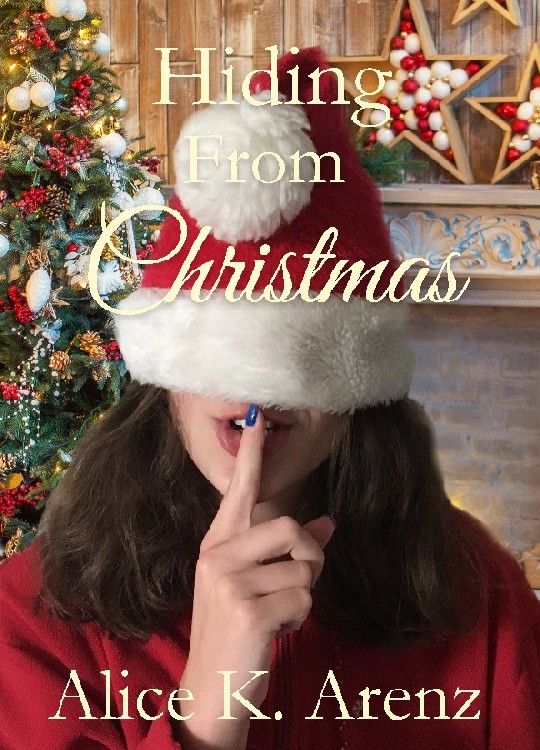 Her first published books, The Case of the Bouncing Grandma and The Case of the Mystified M.D., were cozy mysteries that included quirky characters, faith, humor, and a little romance with the mystery. Yet Alice had written her first book-length manuscript more than twenty years earlier. Mirrored Image, a classic romantic suspense, became her third published novel.
Alice's Author Awards
The Case of the Bouncing Grandma finaled in the 2009 ACFW Book of the Year Award (now Carol Awards) in the mystery category. The following year, The Case of the Mystified M.D. won the 2010 ACFW Carol Award for mysteries. In 2011, Mirrored Image finaled in the Carol Awards for mystery.
"The opportunity to participate in the American Christian Fiction Writers' contests was amazing. What happened was all God," Alice said. "Without His guidance, His words, none of my books would exist."
Of her eight books, two are romances. Her latest, Hiding from Christmas, is one. "To be honest," Alice said, "I find it more difficult to write a romance than a cozy mystery or romantic suspense!"
Hiding from Christmas: A Peek at Plot
No matter how hard Maddie Kelley tries, she can't seem to fit in at Ornamental–the company founded by her great-grandfather and his best friend. She's made a lot of mistakes in the family business. After yet another screw-up, she's sent two hours from home for the next two months into the "enemy's" camp—a part of the of the company run by a partner family.
Punishment or blessing?
When the mundane turns unexpected, her life turns upside down. She's tried to forget her love for Ian, but he hasn't forgotten her, and she finally discovers where her heart truly lies.
Hiding is a charming, Hallmark worthy story of a woman discovering herself, perfect for the Christmas season.  Readers will love the story's insights into ornament production and all the fun Christmas baking. Oh, and did I mention that recipes are included?
Alice's eighth  novel is set in the fictional Missouri town of Tarryton which she has used in three other novels. Come visit old friends and make some new ones!
Hiding from Christmas: Behind the Scenes
"Hiding From Christmas is very near and dear to my heart for several reasons," Alice said.
With a bit of magic from her publisher, one of her granddaughters graces the cover of the book.
Then, there's Maddie's memories of fishing with her late father. It had been years since Alice had thought about fishing with her dad, and suddenly she wanted to share the experience with her kids and grandkids. "I never dreamed it would end up in a book. But that's what happened. I'd been in one of those "zones" where I really didn't know what I was typing. When I read through it later, I understood about the resurgence of memories. God always surprises me with little tidbits like that."
Alice likes to use names of family members and friends in her books. "It's my way of saying "hello, I love you." However, the personalities of the characters belong to those characters and are not meant to mimic anyone. The same goes for the characters' experiences, etc.—although elements of me often appear in the books. I think that's only natural."
Hiding from Christmas: The Coming Sequel
Whether writing or not, Alice says what gets her through each and every day is Philippians 4:13—"I can do all things through Christ who strengthens me."
Currently she is working on a sequel to Hiding From Christmas. "I've got about a thousand words and the title—Hiding From Cupid—all waiting to be brought to life."
To discover more about author Alice K. Arenz, visit her at her website: www.akawriter.com
Win a free e-copy of Hiding from Christmas
For your chance to win: Leave a comment below along with your name. You have until Sunday, December 8 to enter the drawing. I will -copy.
(If you subscribe to my blog in the sidebar or at the bottom of this page, you will receive the name of the winner by email. Otherwise, just check back.)
Also, to help spread the word about Hiding from Christmas, you'll find the SHARE and TWEET buttons below. Thank you!